Rangers Valley Feedlot, Glen Innes, NSW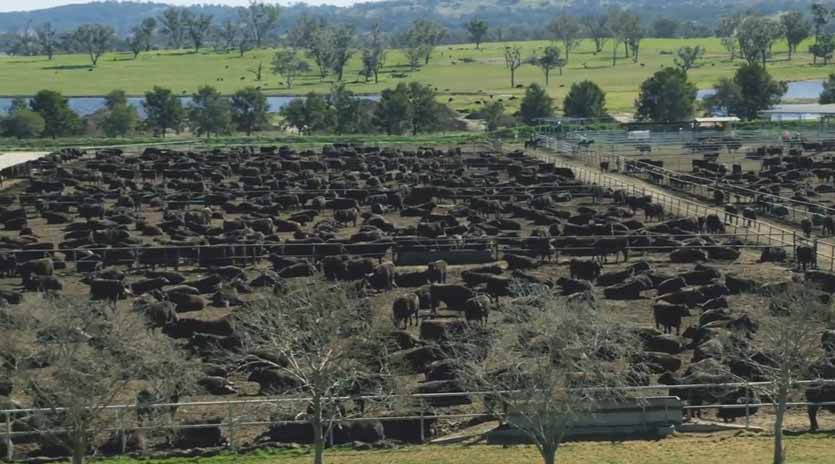 Trevor Sticklen – Sales Manager
I'm the sales manager at Rangers Valley, a 32,000-head feedlot in the NSW northern tablelands that started as a sheep station in 1839.
It's a state-of-the-art facility that has twice been awarded the prestigious Feedlot of the Year title. The 4,700ha Rangers Valley farm produces grain for the cattle at the feedlot.
We produce high quality beef for the Australian and overseas markets, including Japan, South Korea, Taiwan, Hong Kong, Macau, Indonesia, the Philippines, Singapore, US, Russia, Dubai and China.
We pride ourselves on the natural health and safety of our cattle, in a stress-free environment. At the Rangers Valley feedlot, cattle are fed a scientifically designed ration that provides all the protein, energy, vitamins and minerals needed for growth and development. This minimises the risk of cattle becoming susceptible to disease.
Specially trained staff who ride horses among the cattle, known as pen riders, assess the well-being of individual animals, inspecting every pen of cattle each day. If a pen rider sees any sign of ill health in an animal, it's taken to a hospital facility, and if necessary, it's treated.
We operate a DNA traceability system that allows any Rangers Valley product to be traced back from the meat processing plant, through the feedlot to the original cattle breeder. DNA samples are collected from the cattle when they enter our feedlot, and suppliers provide a full history regarding any chemical or antibiotic usage, any supplementary feed, and stating that growth hormones have not been used. Cattle are purchased from properties that have no history of chemical residues.
Feed is tested before entering our feedlot to ensure that it is free from unwanted residues, and we test water on around 50 sites across the station every six months and test soils in most of our paddocks annually.
By upholding the highest standards of animal welfare, care of the environment, product integrity and safety, we are successfully producing beef of the highest quality.
---