Animal health and welfare /
Environmental sustainability /
Feedlot
What welfare and environmental rules and regulations apply to Australian feedlots?
The Australian red meat and livestock industry is committed to caring for their animals and upholding the stringent animal welfare standards in place.
In addition, the industry proactively developed the National Feedlot Accreditation Scheme to demonstrate its commitment to best practice animal welfare, environmental sustainability, meat quality and food safety.
Feedlots follow regulations mandated by federal, state and territory animal welfare, environment, waste and planning legislation. The National Feedlot Accreditation Scheme provides an additional layer of stringent requirements on feedlots.
Environmental legislation imposes management and licensing requirements (e.g. annual soil and water testing and reporting) along with offence provisions to prevent water, air and noise pollution.
Waste legislation provides a framework for managing wastes to ensure the industry remains environmentally sustainable. Elements range from waste avoidance, to re-use, recycling and energy recovery through to waste disposal.
Planning legislation stipulates the planning conditions to minimise the development's impact upon the environment and surrounding community.
Animal welfare standards outlined in the Australian Animal Welfare Standards and Guidelines are essential requirements for animal welfare and form the basis for developing and implementing consistent legislation and enforcement across Australia. They were agreed by state and territory governments in 2016 and are being regulated into law by most state and territory governments.
The National Feedlot Accreditation Scheme is a quality assurance program that demonstrates the feedlot industry's commitment to animal welfare, environment, meat quality and food safety. It supports and complies with animal welfare legislation across Australian states and territories.
Accreditation to the Scheme is the prerequisite for meat being officially marketed as "grainfed" in both the export and domestic markets. As such, over 400 (the majority of feedlots in Australia)– are accredited under the Scheme.
There is direct correlation between the Scheme and the Australian Animal Welfare Standards and Guidelines. Both documents directly reference each other, with National Feedlot Accreditation Scheme referencing the Australian Animal Welfare Standards and Guidelines through performance indicators under Element LM4 – Animal Welfare.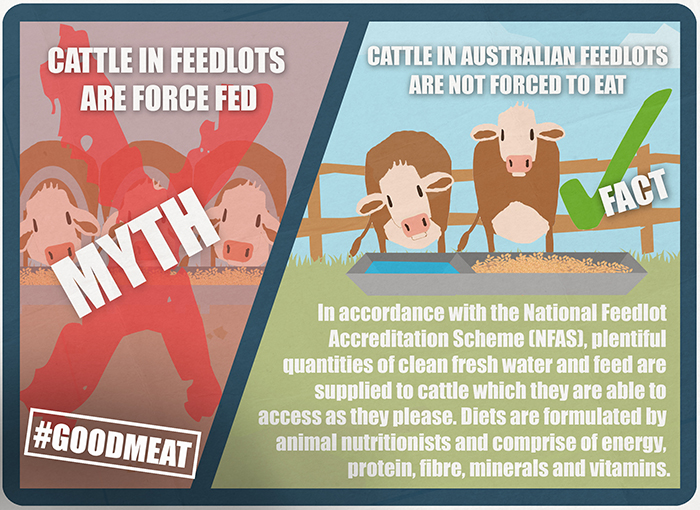 ---