To improve its sustainability credentials and demonstrate continuous improvement, the industry is committed to addressing nine of the United Nations Sustainable Development Goals, which it reports on annually. These goals include climate action, life on land and responsible consumption and production.
A lot has already been achieved. Since 2005, the industry has reduced emissions by 64.85%1, largely through improved productivity as well as changes to vegetation management practices.
This equates to a reduction in the industry's proportion of national greenhouse gas (GHG) emissions from 22% in 2005 to 10.3%.
Making red meat more sustainable
A number of industry-led initiatives have been implemented to help Australian red meat producers reduce their environmental impact and give consumers more confidence that the food they buy has been responsibly produced.
The Australian Beef Sustainability Framework and the world's first Sheep Sustainability Framework are two initiatives that are helping red meat producers implement sustainable practices.
Australian Beef Sustainability Framework: The Framework defines what sustainable beef production looks like in practice and tracks how the industry is performing across 23 sustainability initiatives, such as emissions reduction, use of antibiotics, balance of tree and grass cover and animal welfare.
Sheep Sustainability Framework: To monitor and report on continuous improvement, the sheep meat industry established the Sheep Sustainability Framework in 2021. The Framework tracks the industry's progress on a number of environmental priorities such as net GHG emissions, natural resource management and biodiversity.
A carbon neutral red meat industry by 2030
The Australian red meat and livestock industry's goal is to be carbon neutral by 2030 (CN30), ahead of most other industries in Australia and around the world.
CN30 means the Australian red meat and livestock industry will make no net release of GHG emissions into the atmosphere by 2030, as measured by the Australian Government's National Greenhouse Gas Inventory (NGHGI). The industry aims to achieve this by reducing emissions from grazing management, lot feeding and processing, and increasing carbon storage in soils and vegetation.
The Australian Red Meat Industry's Carbon Neutral by 2030 (CN30) Roadmap sets out how the industry will proactively address emissions and become a global leader in sustainable food production.
The initiatives include:
Improvements in feeding practices (better pastures, new types of food, more grains)
Improved ways of handling manure
Improved genetics and animal management
Storing carbon in the land
Using high-quality feed to improve productivity and reduce emissions.
The Australian red meat and livestock industry was one of the first industries on the planet to set such an ambitious target, and it's already making progress to achieve it.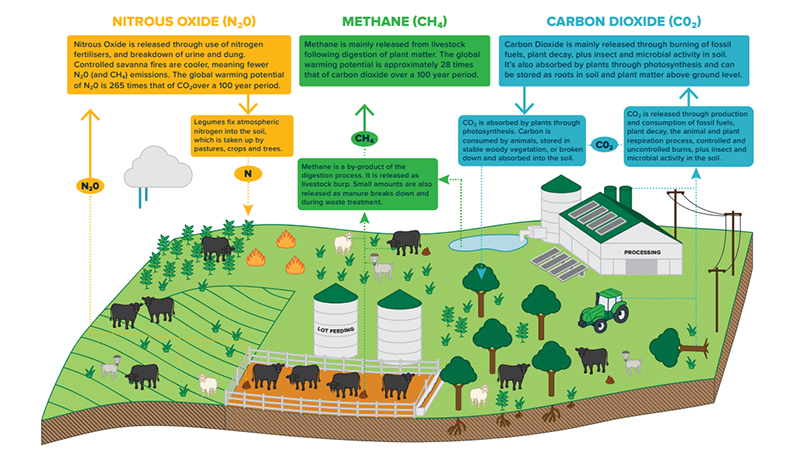 Did you know?
CSIRO analysis shows it's possible to achieve net zero GHG emissions by 2030 (without reducing herd and flock numbers) by increasing productivity, increasing soil carbon and reducing emissions

It now takes 73% less water to produce a kilogram of beef now than it did 35 years ago.

Feed additives such as red seaweed can significantly reduce methane emissions from cattle. In a recent study, cattle that ate Asparagopsis produced 80+% less methane. (Source)
1 Data analysed from 2020 National Greenhouse Gas Inventory